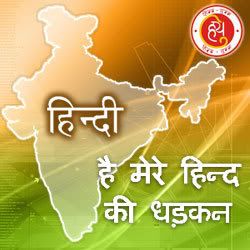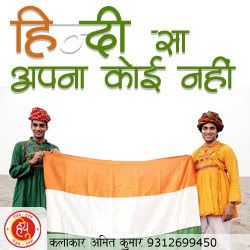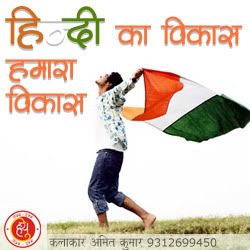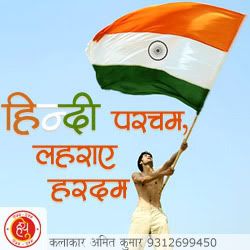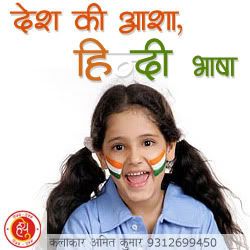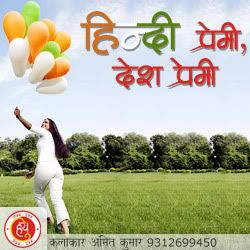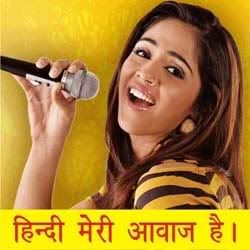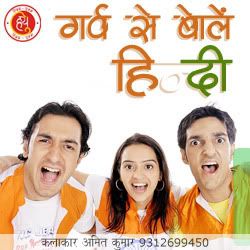 Hindi Diwas is celebrated every year on 14th September becase Hindi was declared official language by the Constitutional Assembly on 14th September, 1949.
Hindi Diwas Celebrations in Schools & Colleges :
Hindi Diwas is celebrated in many schools and colleges. On this day students recited Hindi poems and read Hindi papers to show the importance of Hindi.  Hindi Essay Writing Competitions are also organised on Hindi Diwas.
Interesting Facts about Hindi Language :
Hindi has a history behind; it belongs to Indo–Aryan branch of indo European language family. The word 'Hindi' itself is a gift of Persian, Mughals added to its flavour, Amir Khusro was first to write Hindi Poem.
This language has travelled a long distance to make its presence felt in the World. It is spoken in many parts of the world and its one of the main language in Mauritius, Surinam, Trinidad and many others including the U.S.A, South Africa, New Zealand etc. It is not only the mother tongue of 180 million people, it is also the second language of 300 million people.
It's spoken by almost 500 million people over the world, the third most spoken language.
A Message to all on Ocassion of Hindi Diwas :
There is nothing wrong in giving importance to English but at the same time it is not right to ignore our mother tongue 'Hindi'. A balance should be maintained between Hindi and English. I am not telling everybody to become 'Pandits' of Hindi but at least what we speak in Hindi should be correct.
Let us share some interesting Hindi words on Hindi Diwas :
Hindi World for cigarette – Shwet Vastra Dharini Dhumrpan Dandika.
Hindi Translation of buttons – Asth Vyasth Vastra Niyantrak.
In Hindi Trains are called – Loh Path Gamini.
In Hindi  Cricket is called Golgattam Lakkadpattam Tad-a-Tad Mar Pratiyogita.
Hindi Diwas Nice Poem :
Is varsh bhi hum Hindi Diwas mana rahe hain
Hindi main kaarya karne ka sankalp dohrah rahe hain
Agle din hindi chhod angreji apna rahe hain
Fir bhi shaan se hum hindi premi kehla rahe hainHum kab tak ye Hindi Diwas manate reh jayenge
Hindi main kaarya karne ka sirf sankalp dohrate reh jayenge
Hum kab tak maa ko mom, baap ko dad banate reh jayenge
Hum kag tak apni Hindi maa ko thukrakar,
Videshi Angreji mummy ko apnate reh jayenge. …
To Read Complete Poem Click Here
Hindi Diwas 2012 SMS, Text Messages, Wallpapers and Greetings :
अ आ इ ई उ ऊ ए ऐ ऍ ऎ ओ औ ऑ
० १ २ ३ ४ ५ ६ ७ ८ ९
Lets Write in Hindi
Lets Learn Our National Language,
Happy Hindi Diwas
राष्ट्र की पहचान है जो
भाषाओं में महान है जो
जो सरल सहज समझी जाए
उस हिन्दी को सम्मान दो
Hindi Diwas Wishes to all …
हिंदी बोलने में शर्म नहीं
गर्व होना चाहिए
Speak Your National Language Hindi
Incoming search terms:
hindi diwas
hindi diwas slogans
hindi diwas wiki
hindi diwas sms
hindi divas
slogans on hindi diwas
14 september hindi diwas
hindi diwas poems
article bottom